Автор →

ForgottenSons


в новости → Grace - Grace (1979)
Greetings and thanks for this post.

Would it be possible to post the albums of Grace.

Grace - The Poet, The Piper and the Fool (1992)
Grace - Poppy (1996)

Grateful for your attention thank you.

Danilo
*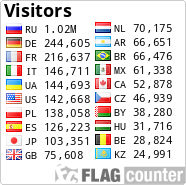 Copyright © 2017-2018 ProgRockWorld - Новинки и раритеты рок музыки, скачать и послушать бесплатно mp3,lossless.Novelties and rarities of Rock music , free download album mp3,lossless.