Новинки
/
Progressive Rock
Исполнитель:
Rikard Sjoblom's Gungfly
Альбом:
Att For Barn Som Tror Pa Sagor Lasa Hogt Nar Kvallen Kommer
Страна:
Sweden
Жанр:
Crossover Prog
Год:
2018
Формат:
MP3 CBR 320 kbps
Размер:
123 МБ
Файлообменник:
Depositfiles, HDFiles, Cloud
Автор →

zarock


в новости → The Artwoods – Steady Gettin It. The Complete Recording ...
Группа активно работала 1964-67 года, в составе которой участвовали клавишник Jon Lord (до Deep Purple), фронмен и вокалист Art Wood (старший брат легендарного Ronnie Wood), ударник Keef Hartley (до Keef Hartley Band), гитарист Derek Griffiths и бассист Malcolm Pool.
Автор →

Алексей


в новости → Citizen Cain - Raising The Stones (1997)
Группа интересная, конечно это не Genesis, но очень похоже и это очень радует, но на мой взгляд поздние альбомы меньше похожи на классиков, но более оригинальные, автору спасибо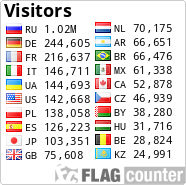 Copyright © 2017-2018 ProgRockWorld - Новинки и раритеты рок музыки, скачать и послушать бесплатно mp3,lossless.Novelties and rarities of Rock music , free download album mp3,lossless.